In the last few years, sensory testing has become more recognized in the food, beverage and cosmetics industry. This is proven by IFT offering  fundamentals in sensory science courses  and UC Davis teaching an applied sensory and consumer science certificate to acquire hands-on skills and sensory science training. The EuroSense and Pangborn Symposia are also well attended by academics and industry representatives.    
Who is interested in sensory analysis training? That would be sensory scientists and market researchers. These professionals work in the quality, marketing and product development fields. They serve in teams who conduct consumer research and sensory testing to gauge market trends and validate new formulations or product packaging. Primarily, they evaluate sensorily complex food products but they can also apply their skills in the cosmetics and consumer goods industry. 
What is a sensorily complex product?
When one thinks of food connoisseurs, certain foods come to mind: wine, beer, chocolate, spirits or coffee. All these foods have complex aromatic profiles and engage all the gustatory senses when evaluated. In recent years, new product development trends have seen dairy and meat substitutes successfully enter the consumer market. There is also an appetite for exotic flavours and interactive products as seen in the Boba tea consumer trend. These segments are experiencing growth. Some sensorily complex foods like wine, tea or chocolate are sometimes promoted with their own aroma wheels. Depending on the product, sensory certifications are also available: one may, for instance, decide to become a tea sommelier.  
How do sensory scientists conduct sensory testing?
Sensory scientists learn how to implement the right sensory tests to achieve the right study objectives. They conduct statistical analyses on sensory data and report the results in a format understood by technical and non-technical people. These professionals require a sensory panel to conduct consumer sensory research or product testing. In the field of sensory science or consumer research, one expert opinion is not sufficient to deliver robust results and draw conclusions. The design of the sensory experiment is important to obtain valid results and make decisions about product reformulation or packaging. In the past, companies relied on focus groups and consumer surveys. With the global nature of the industry and increased market segmentation, the need to add a sensory dimension to the testing to better capture consumer expectations is becoming clear. Consumers, when surveyed, talk about their likes and dislikes but also visualize, taste or smell the food and provide feedback to a sensory analyst or market researcher. As for food experts, they are hired to objectively rank and describe products to assess their quality and defects.     
When can sensory tests be used?
Launching a new flavour or new packaging 

Validating product specifications (ex: no defects) 

Validating product claims and product shelf life (avoiding rancidity, staleness)

Substituting an ingredient during a recipe change while maintaining consistency of taste and texture 

Educating consumers and sales professionals on different product sensory properties  

Performing benchmarking and analyzing competitors' products   

Screening a large array of raw materials and ingredients to use in product formulation

Obtaining feedback from consumers on new products or packaging 

Documenting product development activities

Sharing sensory data with non-technical employees
Intuitive Sensory Tools
To conduct food aroma or texture studies, sensory scientists need tools to speed up the design of sensory or consumer tests. They must be able to create or duplicate a sensory test quickly, aggregate sensory results, perform testing remotely (where applicable), and obtain tabulated and graphed results immediately after the completion of the tests. While they learn to calculate statistics in the classroom, they use sensory software in the workplace. The challenge is then to make sense of the data, spot interesting trends and capture insights that will lower the risk of a costly market failure. 
Introducing Tastelweb©
Small and medium companies and learning/research institutions may be interested in investigating Tastelweb©, a professional sensory testing software which is affordable, complete and easy to use.  The software can be used on phones, tablets and PCs. It currently offers five sensory test modalities: 
Triangle (discriminative test)

Profiling Tests (descriptive tests): 

Consumer Test (Preference, hedonic, acceptance tests) 
Pivot® Profiling Test
The Pivot® test is based on a series of simple paired comparison tests where individual samples are assessed against a central sample referred to as the "Pivot" sample. When experimenting with beverages, the Pivot sample can be a blend or mixture of the samples in the flight. Assessors are required to evaluate, without limitations, the sensory profiles of products and compare them to the Pivot by identifying which perceptions are less or more intense than that of the Pivot. A review and count of comments and terms are then undertaken to produce individual sensory profiles and create product comparisons. This method captures insightful information and draws on the lexicon and knowledge of the food or beverage assessor. It's a novel sensory method in use in the alcoholic beverage industry where experts use established terminologies to evaluate wine, beer and spirits. The Pivot® test can be also applied to consumer goods and may be used with assessors/consumers who have sensory knowledge of the product and who are able to clearly articulate perceived sensations. This novel sensory test is more efficient than the classic QDA profiling methodology which requires sensory training on defined product attributes. 
Tastelweb® makes it possible to process free comments from judges, assessors and consumers. Thanks to the company's experience (they have been working on textual analysis since 1995) and Google's advances in the identification of words in a text, panellists' feedback can be computer-analyzed and ranked. When panellists provide comments such as product defects or qualities in a free text format, the frequencies of the most important qualifiers can be identified and calculated automatically. These results allow sensory scientists to describe and compare products in an open manner, without these terms having been suggested beforehand to the assessors.
These tests are designed to collect consumer opinions (preferences, likes and dislikes). They can be tailored to specific demographics such as children or an aging population. The data that scientists gather take the form of questionnaires and food sensory evaluations. Consumer surveys can be customized to suit the needs of the business. From long to short answers or using the 9-point hedonic scale, sensory scientists can use Tastelweb® to create modular questionnaires. Types of questions are shown below: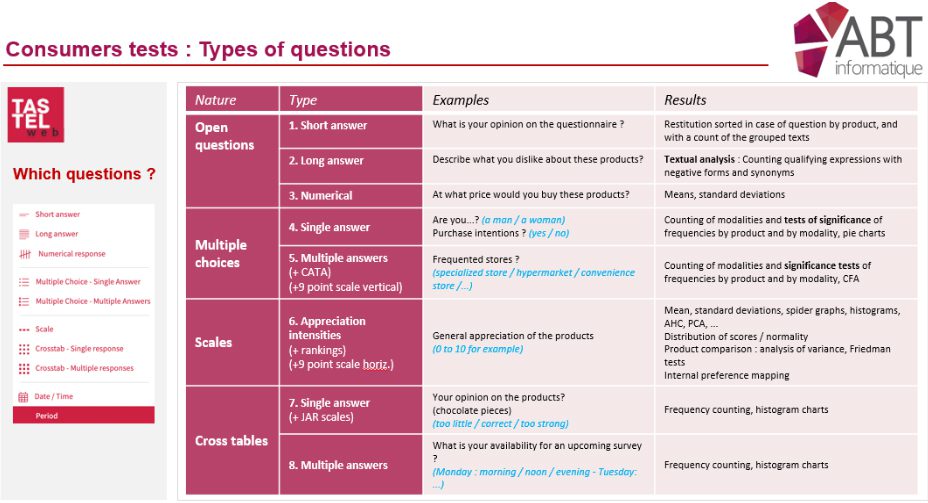 Interested in Tastelweb®? Contact us to learn more about our sensory software. We offer flexible subscriptions (5, 10, 20 tests or unlimited testing) as well as individual tests for purchase. Discounts are available to students and learning and research institutions. 
We are pleased to announce that Sirocco Consulting and Tastelweb® will be at Pangborn 2023!