Origins of The Pivot© Profile Test
The Pivot© Profile test is a novel sensory methodology created by Dr. Thuillier (CEO of ABT Informatique) in 2015. Using free comments, this method compares the sensory profile of coded samples to a pivot sample in a series of paired comparison tests. Panellists indicate whether a coded sample is less "sweet," for example, than the pivot sample and more "bitter" than the pivot sample. The sensory test, which can compare up to 50 products over a few days or weeks, yields a lexicon of terms and synonyms that the panel coordinator must organize into a dictionary of sensory descriptors. When comparing at least three (3) products, the descriptors with the highest frequencies are plotted on a map using Common Factor Analysis (CFA). CFA is a statistical method that expresses the relative differences between the products on the selected attributes. When two products are evaluated, bi-directional graphs are generated by Tastelweb©. In addition, low-frequency terms that are perceived by a smaller group of panelists should be taken into consideration and contribute to the richness of the samples' sensory profiles. It is recommended to recruit ten (10) to a dozen assessors for a Pivot© Profile Test. 
Why Use the Pivot© Sensory Test?
This test is quick and descriptive in nature. It is used to characterize and differentiate the sensory profile of food products, beverages, and cosmetics. The test can be used in benchmarking when comparing product(s) to the market leader or in quality control when comparing manufactured batches to an approved control. Contrary to QDA©, panellists do not require training on pre-defined sensory descriptors. The test can be performed with experts or consumers. Hypothesis testing can be performed on the data to identify significantly different products.       
How to Select the Pivot© Sample?
The Pivot© sample can be a mixture, in equal parts, of the products to be assessed. In the food industry, this would be suitable for beverages, powders, purées, and pastes. The pivot sample can also be the most average and neutral product – from a sensory intensity standpoint – within the group of coded samples or a similar product of an average sensory profile. When used in quality control, the pivot can be the mixture between the control and the production lot under evaluation.          
Setting up a Pivot© Profile Test in Tastelweb©
Creating a Pivot© Profile Test in Tastelweb© is fast and easy. The test can be conducted in English, Spanish, or French. A detailed Help section provides guidance to the panel coordinator.   
Samples can be added manually, imported from an Excel file, or imported from the Tastelweb© Database.
The serving order is chosen next with a choice of "random," "Latin square," or "free" (the panellist chooses the order) or no order (following the order the samples were added to the test).      
Questionnaires can then be previewed and completed before finalizing the test. The order of presentation of the samples is available for download prior to the test validation.
Entering the sensory descriptors: 
Panelists may enter:  
A single word that expresses a product descriptor to be placed in the "less" or "more" column in relation to the Pivot sample. Examples of attributes include: "camphor," "orange," "smooth," "transparent," and "viscous." 

Qualifying expressions are also permitted, such as "green reflections," "ripe fruit," and "fine bubbles."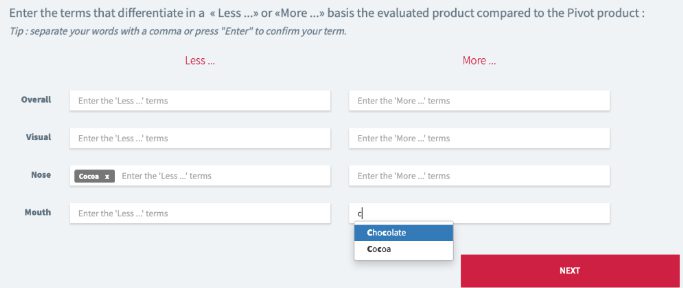 The sensory test is then emailed to the panel (which can be anonymous, pre-set, or a new panel) by email via a QR code or a URL (with a user ID and password).
As with all tests in Tastelweb©, the panel coordinator can elect to generate a report on products or panellists. The results can also be viewed using a saved report template created by the panel coordinator.  
Graphical Representations and Tabulated Results
CFA graph (3 products or more) or bi-directional graphs (2 products) as shown below.

Histograms of Products or Sensory Terms

Matrix of Product Comparisons 

Statistical Significance of Differences (Student Test, 5% significance level) 

Frequency tables (Means and Std Deviations for sensory attributes; Tables of "Minus" and "Plus" for Products and Sensory Descriptors)  

Raw Data Tables on Products, Panelists, and Sensory Terms   
What academics and other reviewers are saying about the Pivot© Profile Test and modified methods of the Pivot© Profile Test.
The method gives "wine companies and wine regions the ability to do some of their own sensory analysis and develop data to enhance their wine stories." Wine Australia (2018).
"The use of the modified Pivot technique (instructions and determination of the values of the unadulterated [coffee] sample considered Pivot) can be very useful for the identification of the sensory effect caused by the adulteration of different foods, including those that are protected by some quality seal for quality or for quality control. The scope of this research may be of interest to the industry, producers, and academia." Journal of Sensory Studies (2021) 
"Pivot profile is an important and promising tool for sensory analysis. Compared with other open-ended questions for sensory evaluation, it has high analytical and discriminative power, making it useful in routine applications when classical descriptive methods cannot be applied." Journal of Dairy Science (2016) 
"Pivot Profile© appeared to be an interesting method for a large variety of honey [from around the world]. [The pivot© profile test] is used to describe a large number of products with interpretable results." Food Research International (2018)
The Pivot test serves to "eliminating the subconscious bias of winemakers".[…] It plays to the strength of these wine professionals as they are making comparisons and already have an expansive vocabulary." Chemistry in Australia (2022)
Sirocco Food + Wine Consulting's certified SQF Consultants and Lead HACCP/PCQI instructors have been helping food businesses since 2013. We provide food safety plan creation services (HACCP, PC plans for Human Food, Canadian PCP plans) and HACCP/SQF/PCQI training services. If you require assistance with your HACCP plan or SQF program, contact us to request a quote. Subscribe to our newsletter for news on food safety regulations and industry standards.