It's been over a year since the SQF code edition 9 was published and implemented. The SQF Professional update for 2022 Q2 provides some insights on food safety compliance for certified sites.
Audit Findings
SQFI reported that over 7,500 audits were conducted worldwide in 2021. The average audit score reached 94.30/100, a "G-good" audit score (86-95%) according to the SQF Audit Certification Grading Criteria. A total of 256 major and 23,730 minor non-conformities were issued by auditors. 4 critical non-conformities were logged. The 2021 critical, major, and minor non-conformities (NC) were raised against the following top bullet points: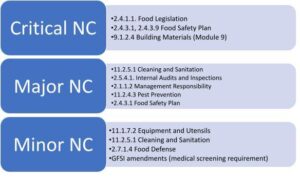 These statistics confirm a trend that we have reported in past years. Food safety plans and sanitation and pest control programs form the cornerstone of the food safety management system. These programs are noticeably lacking for some certified sites and may pose food safety issues if not corrected. Interestingly, SQF auditors have also raised non-conformities against regulatory requirements, specifically the Food Safety Modernization Act (FSMA) requirements. The FDA's final Intentional Adulteration (IA) rule has been in the news earlier this year, prompting auditors to focus more on food defense requirements. The FDA has also started taking enforcement action concerning the Foreign Supplier Verification Program (FSVP) requirements. It was reported in the news recently that companies that did not have FSVPs for imported food products received warning letters (FDA Form 483a). This past week, the FDA issued final guidance regarding regulatory oversight of food imported from Systems Recognition Arrangement (SRA) countries. 
An announcement articulated that starting July 24, 2022, the use of the entity identification code "UNK" (Unknown importer) will no longer be an option when filing an entry with U.S. Customs and Border Protection (CBP). In the light of these news updates, expect SQF auditors to assess regulatory compliance for food imports at your next audit. 
Other US FDA News
Owing to their transparency mandate, the US FDA also announced earlier this year that the FDA-TRACK: Agency-wide Program Performance was now online to track the progress of 100 program areas including food safety management. 
Under the FASTER Act of 2021, sesame is being added as the 9th major food allergen effective January 1, 2023. It is imperative that certified sites supplying food to the US update their allergen controls by this date and before their next recertification audit.
Regulatory matters aside, SQFI reported that some sites failed to stay informed ahead of an audit and failed to meet GFSI amendments such as the medical screening requirements. It is therefore important for SQF practitioners (leads and their back-ups) to access industry news by, for instance, subscribing to the SQFI newsletter or any other legitimate industry news publication. 
Another observation that SQFI made during the Professional Update was regarding the writing of non-conformance statements by SQF auditors in 2021. The new food safety culture requirements were audited following consulting guidance from industry experts and other professionals. For instance, documented objective evidence referred to employee surveys and food safety culture plans or programs that were not implemented or maintained. The SQF code Edition 9 does not refer to these documents specifically. On the contrary, the site is free to determine its own food safety objectives within the context of the food safety culture requirements. In this regard, SQFI recommends that food safety professionals review the tip sheets available on its website. SQF professionals are taught to follow the "Road to RIO" concept (Records, Interviews, Observations) to determine whether a culture of food safety permeates through the site during a certification or recertification audit. Another final comment that the GFSI team made was that the SQF code glossary was underutilized.
Summary
These observations and recommendations form part of the curriculum during SQF training. When teaching the "SQF system implementation course – Food Manufacturing," instructors take great care to review SQF resources, food safety management and continuous improvement principles. As professional development is critical in preparation for an SQF certification or recertification audit, be sure to contact your CB and discuss SQF training courses. 
References: SQFI Professional Update (2022, Q2)
——
Interested in registering for an accredited SQF training course? Review Sirocco's list of upcoming courses. These courses are offered by SQF authorized training providers and taught by Karine Lawrence, Certified SQF Trainer and Consultant, Lead FSPCA instructor (Human Food), and Certified HACCP Professional.