The Canadian Food Inspection Agency (CFIA) initiated a second round of consultations with stakeholders last May to obtain feedback on proposed food safety legislation as part of the Safe Food for Canadians Action Plan . This time, the small business food sector was invited to participate in webinars and face- to-face meetings to learn about the proposed regulatory changes and submit feedback to CFIA. The consultation process closed at the end of June.
The proposed food safety regulations support the Safe Food for Canadians Act (SFCA), a new piece of legislation which received royal assent in November 2012. While the act has yet to come into force, the CFIA pre-published the proposed regulations  for discussion purposes ahead of official publication in the Canada Gazette Part I. The draft regulations include new food safety requirements as well as labeling, packaging, grade and standard of identity requirements.
Amongst the key proposed changes are stricter food safety controls, traceability and record-keeping requirements as well as mandatory licensing (estimated fee of $250 every 2 years) for businesses involved in food imports, inter-provincial or international trade. CFIA's mandate is to enforce food safety controls consistently across all food categories, whether food is imported or produced domestically.
Cognisant of the fact that small businesses may not be able to comply with the new regulatory requirements readily, CFIA wishes to grant exemptions and are proposing flexible options for discussion. Under the proposed regulations, small businesses are defined as having annual gross sales of $100,000 or less while micro businesses' sales would reach $30,000 annually.
It is proposed that small businesses be given an additional 3 years to comply with food safety requirements (HACCP-based plans and food safety fundamentals such as Good Manufacturing/ Good Agricultural Practices). Small businesses would also need to comply with non-food safety requirements.
It is also proposed that small and micro businesses be exempted from the licensing requirements and not be subjected to the HACCP-based Preventative Control Plan and record-keeping requirements. Small businesses who require an export certificate would nevertheless require a license. These exemptions would not apply to small businesses that are already under CFIA oversight. Criteria for the exemption of currently unregulated businesses are up for discussion. Another option offered to debate is to waive the cost of licensing for small businesses but still allowing them to "register" with CFIA. The various options do not distinguish between small domestic producers and small food importers.
Meanwhile, south of the border, the US Food and Drug Administration (US FDA) published the final rule for preventative controls for human food under a similar food safety modernisation initiative. Under the new rule, very small businesses ("annual sales of US$1 million per year (adjusted for inflation) plus the market value of human food manufactured, processed, packed, or held without sale") are given 3 years to comply. Small businesses are also defined as organisations with fewer than 500 full-time equivalent employees.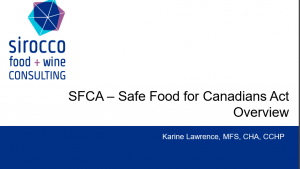 Looking for more in-depth information? On sale now, download our quality slide presentation.