Governments in Canada and the US are modernising their food safety legislation to ensure consumer protection and to align with that of key trading partners. Meanwhile, large retailers, distributors and manufacturers continue to support and demand implementation of global food safety standards to meet market demands. Standards such as Safe Quality Food (SQF) or British Retail Consortium (BRC) integrate both HACCP and continuous improvement principles to ensure safe food production and customer satisfaction. These food safety standards are recognised by the Global Food Safety Initiative (GFSI) and prepare food businesses well for international trade.
HACCP-Certified
If your facility is already HACCP-certified, you have demonstrated to authorised auditors that pre-requisite programs and a HACCP plan have been successfully implemented. Hazard Analysis and Critical Control Point (HACCP) is an internationally accepted method for ensuring the production of safe food.
Organisations that are HACCP-certified and wish to export may need to implement global food safety standards. Standards or "schemes" such as BRC or SQF are recognised by the Global Food Safety Initiative, a non-profit foundation whose membership counts over 650 food businesses in 70 countries. The GFSI's guidance document reflects their mission to "provide continuous improvement in food safety management systems to ensure confidence in the delivery of safe food to consumers worldwide." This objective is achieved, in part, through the benchmarking of food safety standards by a group of international experts.
Global food safety standards are accredited and must meet minimum food safety requirements outlined in the GFSI guidance document in order to be recognised. The guidance document outlines minimum requirements and normative references in the three following areas:
Pre-requisite programs (Codex)
HACCP plan (Codex, NACMCF)
Management of the food safety system (ISO 9000)
While all approved schemes share these minimum food safety requirements, they differ in other areas. Some standards are more prescriptive than others or integrate quality requirements. The selection of one standard over another will depend on business objectives (how soon do you require certification?), customer requirements and the food establishment (does the facility layout and building fabric meet prescriptive requirements for food safety?).
Food Safety Gap Analysis
When embarking on a GFSI-standard implementation, it is often a good idea to first conduct a "gap analysis." This assessment looks at food safety documentation including management processes and compares it to the standard. It also includes a very detailed inspection of the facility in which personnel hygiene and practices are observed, employees are interviewed and equipment and building are inspected for food safety risks. This assessment is more stringent with Ready-to-eat and Ready-to-re-heat foods that must be handled in "high care/high risk environments" where bacterial risks are controlled.
A BRC or SQF food safety system implementation requires good planning to guarantee a successful audit and certification. Project management activities should include a personnel training and communication budget, allocation of funds for food safety leadership/development and maintenance of system documentation as well as capital for facility and equipment upgrades (if applicable).
Get Certified to Global Food Safety Standards
It has been shown that American companies that are certified to global food safety standards have experienced fewer incidents of food recalls. While certification to GFSI-recognised standards provide greater food safety assurance, scheme owners and certification bodies have reported top audit non-conformities from certification audits. Top areas of concern include the completeness of food recall plans and HACCP plans. Also a concern is the adequacy of allergen and foreign material control programs. Validation and documentation of critical limits, food safety system maintenance and change management are non-compliance areas that potentially place the supply chain and consumer at risks.
Above all, the effectiveness of food safety management systems goes hand in hand with creating a strong food safety culture  within the organisation. Food safety awareness is achieved through training and communication of objectives at all levels of the organisation.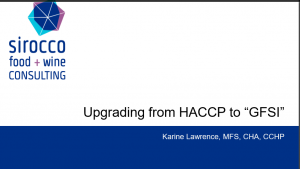 Looking for more in-depth information? On sale now, download our quality slide presentation.