The second installment of the Wine Sensory Symposium took place at VV Tapas Lounge, a brand new eatery and wine bar located at 957 East Hastings in Vancouver. Wine blogger and hospitality consultant Laura Milnes from Silk and Coupe facilitated 2 great debates about BC wine showcasing Vancouver Island and Salt Spring Island wineries. Two panels of passionate local sommeliers and winemakers took turns providing insights on a number of relevant and trendy discussion topics:
Panel #1
Terroir of Vancouver Island – challenges and opportunities.
How wine styles and demand have changed in the last 10 years in BC.
Can you have a well-rounded list with only local wines?
Panel #2
What are some of the unique wine tasting preferences of the BC region? What could be done in the winemaking process to make local wine more appealing to the Vancouver market?
Stigma of Canadian wine – what is it and how is it changing?
Can we really make natural wine in BC?
How important are GI's – would these labels make an impact?
Sponsors: Sandhill, AmoVino, Emkao fair-trade chocolate, Massey, Nuance winery equipment and supplies, Sani Marc, Town Hall Brands, VV Tapas Lounge, Riedel.
The symposium organizers would like to thank all the speakers, sponsors, and VV Tapas Lounge.
Speakers: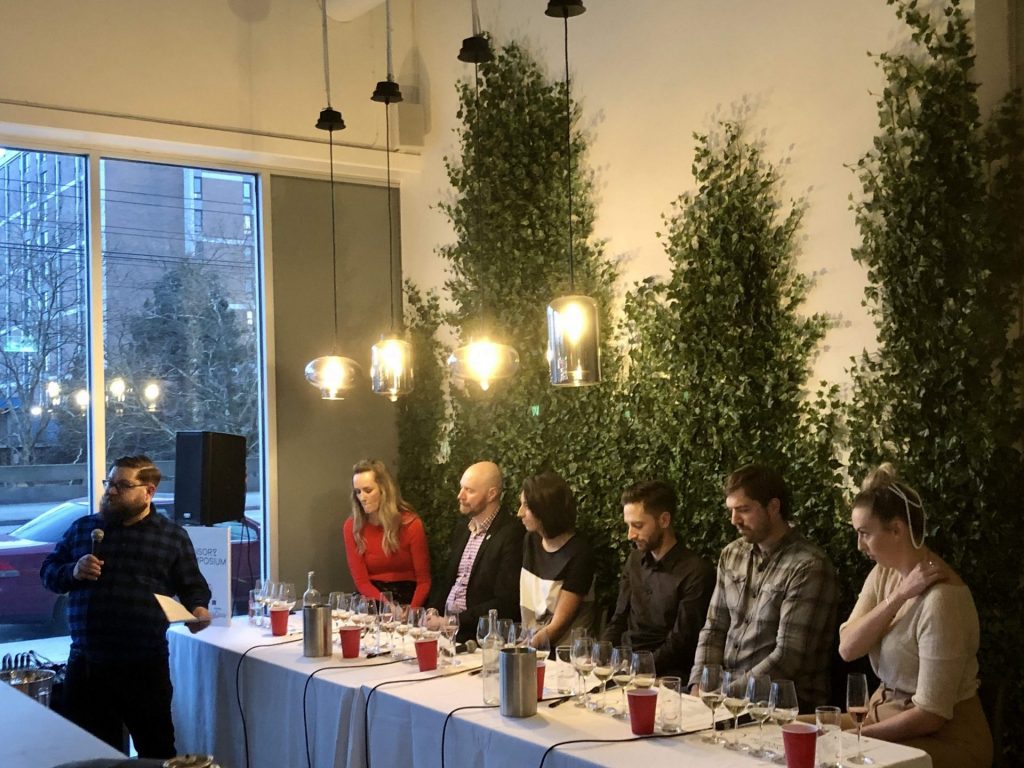 Chris Turyk – Unsworth Vineyards
Shawn Jones – Old Bird
Daniel Dagert – Kutatás Wines
Jessica Luongo – AmoVino Distributors
Sean Nelson – Hawksworth Restaurant
Matt Landry – Stablehouse Bistro
Laura Starr – VITA Magazine
Bailey Williamson- Blue Grouse Winery
Louise Fedyk – Massey Wine & Spirits
Brent Averill – Averill Creek Vineyard